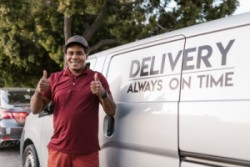 Tips To Learn To Drive A Van
Posted in: Driving Courses, Driving Tips.
Driving a van is very different from driving a car. Itr can take some getting used to. At FridgeXpress we hire out refrigerated vans daily, here are our top tips for driving a van for the first time.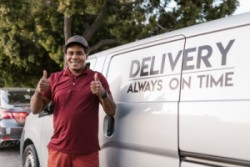 Get Comfortable
Before starting your engine, you will want to adjust your seat mirrors and position to ensure that it offers you a comfortable driving experience.
Driving a van typically requires you to put in long hours behind the wheel. Therefore, you want to ensure you put yourself in the most comfortable position to avoid suffering from the aches and pains of poor ergonomics.
When you are just getting settled into a driving seat, one of the main things that you are likely going to notice about getting seated in a van is that you lack the same visibility that you normally have with a smaller vehicle. Both the rear-view mirror and side mirrors are likely to be out of position.
However, when you raise your seat and with the larger-wing mirrors that come with vans, you should have a great view all around your vehicle. Therefore, you don't want to get uncomfortable sitting in an oversized van. Confidence is key. As long as you make yourself comfortable and you optimize the mirrors for your driving position, you should have no problems.
Get To Know Your Van
Getting yourself physically comfortable in your van is very important. However, what's just as important is getting comfortable with driving and operating your van.
Before going out on the road, you should be getting to know where everything is. Toy around with the A/V and heating. You will also want to get familiar with the radio controls, Bluetooth, wipers, blinkers, and lights. Knowing where all of these things are will keep you from fiddling around trying to find them while on the road and driving. The last thing you want to do is find yourself in a rainstorm and not know how to turn on the wipers.
You also want to try to get familiar with the dimensions of the van you are driving. Knowing how large or small your van is can save you from getting yourself trapped under a low clearance sign.
Loading The Van
When you are looking to load your van, you are going to want to do it properly to avoid getting yourself injured in the process. It doesn't matter if you are stacking tools or furniture, you want to learn how to properly fill your van without getting yourself hurt.
One important thing to do is be careful whenever you are lifting something heavy. Try to avoid putting too much stress on your back and lift with your legs. Also, you want to ensure that you are well aware of the safe capacity of your van. You don't want to go somewhere thinking you can fit everything only to find out it doesn't fit.
Adjust Your Behavior On The Road
One of the things you need to do when you are driving a larger van is adjusting your driving instincts. The fact is, driving a van full of heavy things is different from driving a regular car that you may be accustomed to. With a van, slow and steady is what you want. There was a study conducted by Volkswagen that showed that even at as little as 30 miles per hour, a heavy van can take a full 2 meters extra to stop than an empty one. This distance only increases to 5 meters when the van is going 60 miles per hour.
Despite this, a lot of van drivers surveyed in the same study didn't know the increased distance for their vans to stop.
Along with the total braking distance increasing, drivers need to know the size of the van to ensure they know how close to objects to get. Also, they need to be aware of potential blind spots caused by the lack of rear-view.
Anyone driving a large van needs to take extra caution whenever turning corners.
Parking The Van
The total length and width of your van are going to be much greater than that of your car. Because of this, you need to account for this whenever parking. It doesn't matter if you are reversing into a parking spot or parallel parking on the street.
Whenever you can, it would be a good idea to have an extra person exit the vehicle to help you navigate into tight spaces. While it could depend on your make and model, a lot of vans will have swinging doors towards the rear. Therefore, you're going to want to account for this when you are parking to ensure you can unload the goods from the back.
---
Tags: Tips To Learn To Drive A Van
---