Driving Lesson in Crowthorne
Driving Lesson in Crowthorne If you want to learn to drive then try a driving lesson with Blue in Crowthorne, Berkshire. We provide driving courses for all people at different levels of driving ability, this includes:
Driving Lessons in Crowthorne
Beginners,
someone who has never driven a car before and wants to go through the basics of car control with a qualified driving instructor.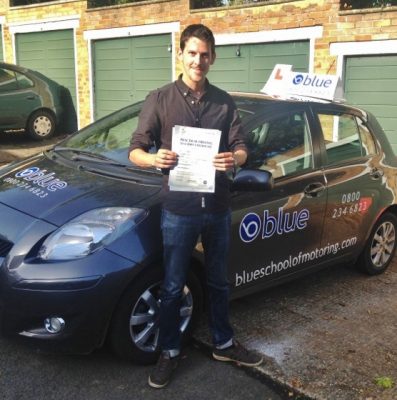 Just started,
a new leaner driver that maybe has had a few hours with Mum or Dad or maybe did not get on with their previous driving instructor and wants to try someone else. Driving Lessons in Crowthorne
Partly trained,
had maybe 10 to 15 hours of driving tuition with mum or dad or maybe an ADI and just wants to start again after a break.
Trained,
has had about 40 to 50 or more hours of driving tuition and maybe has failed a driving test in the past and needs a bit of help to get through the next driving test.
Lapsed,
maybe has given up years ago and wants to go back to basics, and start from scratch again, you might be surprised what you still know..
So no matter what your level of ability we at Blue can help you out with a driving course in the Crowthorne area in Hampshire. Driving Lessons in Crowthorne
We offer some great deals on a range of courses with qualified driving instructors who now the local Crowthorne area.
Find us in Crowthorne
High St, Crowthorne RG45 7AZ
Franchise Partner Positions in Crowthorne
Train as a driving instructor.  If you want to teach learner drivers in Crowthorne, Berkshire then we can help. There are plenty of franchise positions out there but we offer a Very competitive package
Why work for a low hourly rate, when you can make much more than that, at Blue.
We are looking for qualified instructors (Approved Driving Instructor) to join Blue School of Motoring ASAP. Driving Lesson in Crowthorne
If you are teaching in either Manual or Automatic cars we are looking for both types of driving instructors in the
Crowthorne area
Special Intro Offer First Few Months Franchise FREE
All the students you need
Earn a good rate of pay, not cheap lessons rates
Friendly and Helpful team members at Blue
Work the Hours you want
Full CPD courses for Free
For Qualified Instructors, ADI's only
Packages Start from as little as £45
Free marketing in your local Crowthorne area, to attract the best customers for you. Free Roof Box, Business Cards, Training Material and online diary
No, long term fixed contracts
No set up fees.
Full support on building your business.
Agreed Geographical area's to work, that are close to home
No hidden costs
A mutually beneficial agreement, that is negotiated between both parties
Great business support and training in class or on road.
Crowthorne Driving School
High Street
Crowthorne
,
Berkshire
RG45 7AZ
United Kingdom (UK)
Phone:

0800 234 6823
URL: https://www.blueschoolofmotoring.com/
| | |
| --- | --- |
| Monday | 9:00 AM - 5:00 PM |
| Tuesday | 9:00 AM - 5:00 PM |
| Wednesday | 9:00 AM - 5:00 PM |
| Thursday | 9:00 AM - 5:00 PM |
| Friday | 9:00 AM - 5:00 PM |
| Saturday | Closed |
| Sunday | Closed |
Your first lesson – What to expect?
Your Blue School of Motoring instructor in Crowthorne will pick you up from your home, school or place of work. Your driving instructor will then explain to you how your driving course is going to work. What to prepare for how to study for the theory test, there will be a lot going on in your first lesson, so a two hour session is usually the norm. You will driven somewhere away from busy streets, so you do not have to deal with any complex traffic situations on your first lesson. Bring along or wear some sensible shoes that will make using the foot controls easier.
Don't worry if you forget anything, your instructor will use a drivers record of progress, which keeps a track of all that you have done.
Car control can be a lot to take in at first – it's all about physical motor reactions, which sometimes require a new range of skills, response times and hand-to-eye co-ordination skills. Even a simple procedure like moving off involves dealing with the clutch, gears, handbrake, indicators and checking the mirrors – it's like you're in multitasking overdrive. But don't worry, your instructor will go over these area's time and time again until you gradually begin to do more on your own.
Don't be afraid to ask questions, that's what your instructor expects, and will encourage you to do, if you don't ask you will never learn. But don't worry if this makes you uncomfortable – hopefully you'll relax as you become familiar with the situation.
It is recommended that prior to taking your test you should have had 40 hours in-car tuition with a qualified driving instructor and then another 25-30 hours practice with friends or family.
These tips are provided in conjunction with Blue School of Motoring – a driving school that gets results for learner drivers.