Learn to Drive in Reading
Learn to Drive in Reading
Get your first driving lesson in Reading with one of our local driving instructors who are trained in the latest coaching and client centred learning skills. Learn to Drive in Reading
Driving Lessons in Reading, Berkshire
Blue School of Motoring instructors in the Reading area have a high success rate, with most of our students for the driving school coming from recommendations, like the one below: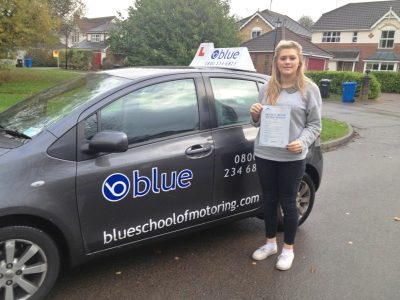 Congratulations to Leah Webb of Woodley on passing your driving test at Reading earlier today, FIRST TIME and with just a few minor faults. Combined with the good news you received this morning about your Uni applications it's been a great day for you Leah and very well deserved! Well done from your instructor, David Shephard & all at Blue. Learn to Drive in Reading
Areas we cover for Driving Lessons in Reading
We also teach driving lessons in these areas in Berkshire
Reading, Caversham, Twyford, Henley, Woodley, Wokingham, Marlow, Wargrave, Hurst, Winnersh, Sonning Common
Post Code Areas Covered
RG40 RG41 RG10 RG9 RG5 RG6 RG1 RG4
Driving Instructor in Reading
We can offer a flexible training programme to suit your needs, this includes pick up and drop off to your home or work. Each module is covered as per the DVSA(Driving & Vehicles Standards Agency) requirements. This includes help with the Theory, Hazard Perception Test, and on through to your taking of the Practical test. Learn to Drive in Reading
Cost of Driving Lessons in Reading
We have some fantastic driving lesson offer discounts for block bookings. Driving Lesson Prices
How to save Be sure you get the best tuition available with a fully qualified instructor. You could learn more quickly, which will help to bring the cost down. By booking lessons in advance you can take advantage of some great discounts. Book your Blue lessons in advance and you can save £2 an hour. Two-hour lessons could help you learn more quickly, as you'll have more time in each lesson to get to grips with new topics and go over recent manoeuvres.
Top 4 Reasons Why you Should Learn How to Drive
While cars are not the most environmentally friendly forms of transportation, take note that there are numerous benefits of learning how to drive and getting your driver's license. This article will focus on providing you with 4 reasons why learning how to drive is important, so you'll be inspired to seek the help of a driving instructor right away:
1. It lets you hone a lifelong skill – Just like learning how to ride a bicycle, your car driving skill is also one which you can't forget. Of course, the latter is more challenging and complicated to handle than a bicycle but once you learn it, the skill will be ingrained within you.
You will also get to hold your driver's license, which you can use for a long time. If in case you haven't been driving for an extremely long time, then note that you can easily bring back that skill by just refreshing your mind with a lesson or two.
2. Makes your life more convenient – Your ability to drive your own car can help you manage your life easily. You no longer need to deal with the hassle of falling in line to catch the train, bus or other public means of transportation.
Commuting back and forth can actually waste several hours of your leisure time.
Driving your own vehicle, on the other hand, can help you save time. While you may get frustrated during rush hour traffic, note that public transport also passes the same road. The only difference is that you are at the convenience of your own car, not restricted by other challenges linked to riding public means of transportation.
3. Makes you feel more independent – Acquiring driving skills is like a big accomplishment in the modern day and age. In fact, many consider it as the mark of independence and maturity. There's no need for you to rely on public transport, taxis, foot, and your parents to visit places you want to go to.
4. Enhances your social status – While it's true that you shouldn't use this as the only reason why you should learn how to drive, it's also undeniable how effective this skill is in turning you into a more useful person. For one, you will gain the power to offer others lifts in your car. Also, you will most likely gain the appreciation and respect of the people around you.
With all these reasons in mind, it really pays to acquire driving skills. The good news is that you can now hire competent driving instructors and attend lessons to master this skill.
Find us in Reading
Driving Instructor Reading
Spencer Road
Reading
,
Berkshire
RG2 8TP
Phone:

0800 234 6823
URL: https://www.blueschoolofmotoring.com/
| | |
| --- | --- |
| Monday | 9:00 AM - 5:00 PM |
| Tuesday | 9:00 AM - 5:00 PM |
| Wednesday | 9:00 AM - 5:00 PM |
| Thursday | 9:00 AM - 5:00 PM |
| Friday | 9:00 AM - 5:00 PM |
| Saturday | Closed |
| Sunday | Closed |