Foreign Driver Courses
Foreign Driver Courses
If you are new to the UK and wish to pass the UK driving test or just get some impartial driving advice, then we have a training course that can help you to achieve your goal.
UK familiarisation courses are quick, easy and a useful way to update your driving knowledge and skills. Get some impartial professional advice on your driving. Foreign Driver Courses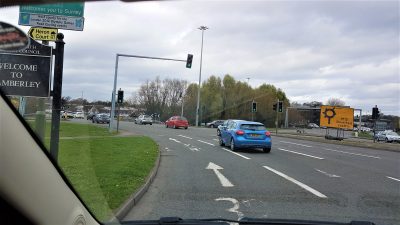 The UK Driving Course covers these area's
The laws governing driving on British roads
Licence requirements
Managing roundabouts
Joining, using and exiting motorways and dual carriageways
Highway Code
Road signs and markings
Traffic regulations
You May Be Intimidated When Driving in a new country
Commuting to work and back, or just popping to Tesco or being the taxi for the kids, driving is a key part of your personal, family and work life for millions of us. And that's part of the problem: with so many more drivers on the road today, what should be a useful quick way from A to B, or a leisurely drive on quieter roads, can too often feel more like a stressful chore.
What You Can Get From a Refresher Driving Course
It will help you become a better, safer and more confident driver. Re-learning safe driving principles reduces the risk to yourself and your passengers – and automatically to other road users. It's a quick, easy and useful way to update your driving skills and get impartial advice from a professional driving instructor.
The Refresher Driving Course Can Save You Money
Driving safely and competently actually saves you money by avoiding wear and tear on the car which bad driving (e.g. clumsy gear changes, lack of knowledge of how the engine works) brings.  You can "go greener" too – the more you learn about the mechanics, the more you can make informed decisions about what kind of vehicle and fuel you should use to help reduce those carbon emissions.
There are Great Benefits
The refresher course will increase your confidence – many accidents are caused by lack of confidence. Calm and decisive decisions means you can deal with other drivers on the road – and learn how to avoid the bad ones, keep space from them and protect you and your family.
Increased enjoyment – secure behind the wheel, you can get back to the days when you actually got a buzz from driving.
What Type of Driver are The Courses Designed For
At Blue School of Motoring, we look after the anxious or nervous, people who have not driven for a long time, or international drivers who need to become accustomed to driving on the left – anyone in fact who knows that we all need a little help sometimes. All Refresher Courses are designed on an individual basis after assessment by a professional instructor.
How Much Time Will I Need
It depends entirely on you. Most people choose a 6 hour Refresher Course, and assess for themselves how much more help they might need. There is absolutely no pressure on you at any stage to take more lessons than you want or need.
How much will it cost?
We know that all your lessons at Blue School of Motoring Ltd are an investment in the future of safe driving. With one of our registered driving instructors, the cost is down to you, you may just want an assessment, and then take from there.
The course could just be a few hours, whatever your happy with. So from as little as £25, you could solve any driving problem with one of our help full driving instructors.