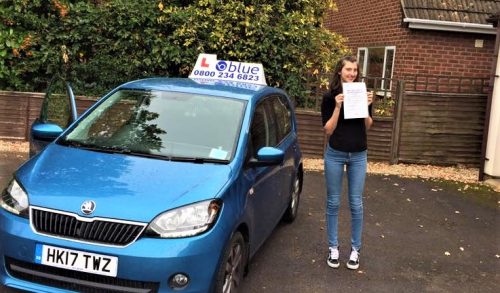 Finchampstead Driving Test Pass for Amy Beresford
Posted in: Driving Lesson Farnborough, Driving Lesson Yateley, Recommendations from Students.
Well done to Amy Beresford from Finchampstead who passed her driving test in Farnborough with just two driving faults.
Congratulations from Peter, your instructor and all at Blue School of a Motoring.
Finchampstead Driving Test Pass for Amy Beresford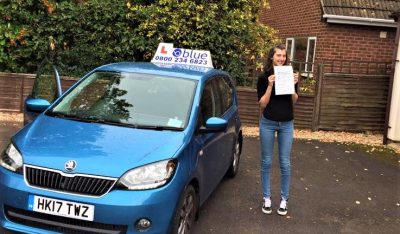 Driving Tips from Blue School of Motoring.
Adverse Weather driving
Blue School of Motoring can tailor a driving course that will help you cope with al of the following.
Finchampstead Driving Test Pass for Amy Beresford
Rain, fog, bright sunshine, snow and ice: find out how to drive safely in all the different weather conditions you'll face on the road
As much of this module as possible should be covered in a practical session. You'll focus on correct speed, safe stopping distances, plus seeing and being seen in
rain
sleet, snow and ice
mist and fog, and
bright sunshine
You will also look at skidding
what causes them
how to prevent them
correcting slow-speed skids
braking on poor surfaces, and
aquaplaning
Wet weather. In wet weather, stopping distances will be at least double those required for stopping on dry roads. This is because your tyres have less grip on the road. In wet weather
you should keep well back from the vehicle in front. This will increase your ability to see and plan ahead
if the steering becomes unresponsive, it probably means that water is preventing the tyres from gripping the road. Ease off the accelerator and slow down gradually
the rain and spray from vehicles may make it difficult to see and be seen
be aware of the dangers of spilt diesel that will make the surface very slippery
take extra care around pedestrians, cyclists, motorcyclists and horse riders.
In winter check the local weather forecast for warnings of icy or snowy weather. DO NOT drive in these conditions unless your journey is essential. If it is, take great care and allow more time for your journey. Take an emergency kit of de-icer and ice scraper, torch, warm clothing and boots, first aid kit, jump leads and a shovel, together with a warm drink and emergency food in case you get stuck or your vehicle breaks down.
Before you set off
you MUST be able to see, so clear all snow and ice from all your windows
you MUST ensure that lights are clean and number plates are clearly visible and legible
make sure the mirrors are clear and the windows are demisted thoroughly
remove all snow that might fall off into the path of other road users
check your planned route is clear of delays and that no further snowfalls or severe weather are predicted.
Driving School Yateley
Aylesham Way
Yateley
,
Hampshire
GU466NR
Phone:

0800 234 6823
URL: https://www.blueschoolofmotoring.com/
| | |
| --- | --- |
| Monday | 9:00 AM - 5:00 PM |
| Tuesday | 9:00 AM - 5:00 PM |
| Wednesday | 9:00 AM - 5:00 PM |
| Thursday | 9:00 AM - 5:00 PM |
| Friday | 9:00 AM - 5:00 PM |
| Saturday | Closed |
| Sunday | Closed |
---
Tags: driving lessons yateley, Finchampstead Driving Test Pass for Amy Beresford
---