Driving Instructor Bracknell Harmans Water
Driving Instructor Bracknell Harmans Water
Mark Brackstone has been a driving instructor for some time now and his pupils highly recommend him.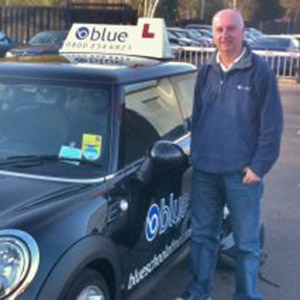 Phone: 07766496364
Hometown: Bracknell, Berkshire
Car: Manual
I am ADI approved driving instructor and also an instructor trainer, recently I have completed a coaching workshop for driver development training and a standards check training course deliver by a senior SE. My previous employment was in the Airfreight industry for 10 years dealing with imports and exports.
With the same company I then moved on to be Customer Service Manager in a section that specialised in the storage of Film and Media for various TV and film companies. This is a role that I also did for 10 years. My other interests and hobbies include, football (Brentford supporter), athletics, Mountain Biking, motor sports and spending time with my family.
Mark has a very high success rate
and is trained to provide, Learner driver training, Driving Instructor Training check test training, Motorway Courses, Taxi Training, Refresher Training, Off Road Under 17:
Mark also teaches driving lessons in these areas: Bracknell, Binfield, Crown Wood, Priestwood, Great Hollands, Hanworth, Eashampstead, Warfield, Wokingham, Camberley, Ascot, Sunningdale, Windsor.
Lowbury Harmanswater Bracknell Berkshire RG129HY
Post Code Areas Covered
RG12 RG42 RG45 RG40 SL4 SL5.
Your first lesson – What to expect?
Your Blue School of Motoring instructor will pick you up from your home, school or place of work. Your driving instructor will then explain to you how your driving course is going to work. What to prepare for how to study for the theory test, there will be a lot going on in your first lesson, so a two hour session is usually the norm.
You will driven somewhere away from busy streets, so you do not have to deal with any complex traffic situations on your first lesson. Bring along or wear some sensible shoes that will make using the foot controls easier.
Don't worry if you forget anything, your instructor will use a drivers record of progress, which keeps a track of all that you have done.
Car control can be a lot to take in at first – it's all about physical motor reactions, which sometimes require a new range of skills, response times and hand-to-eye co-ordination skills. Driving Instructor Bracknell Harmans Water
Even a simple procedure like moving off involves dealing with the clutch, gears, handbrake, indicators and checking the mirrors – it's like you're in multitasking overdrive. But don't worry, your instructor will go over these area's time and time again until you gradually begin to do more on your own.
Mark Brackstone's Recent Driving Test Passes
Congratulations to Jenna Stone of Bracknell on passing her driving test in Farnborough on her first attempt, Jenna passed with just 2 driver faults. Best wishes for the future from […]