Driving Lessons in Bracknell
Learn to Drive In Bracknell, Berkshire
Learn to drive with a driving school that really cares about its customers, we only employ local fully qualified driving instructors who are trained in the latest Coaching and Client Centered skills need for today's demanding roads.  All our local instructors will provide the very best of driving school courses to help you gain on road experience, as well as learn about the highway code and always put safety first.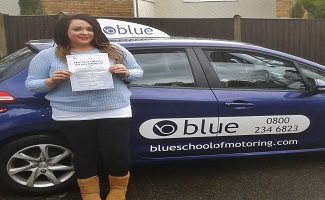 Blue School of Motoring driving instructors in Bracknell area have a high success rate, with most of our students who come to us the learn come from recommendations.
Blue School of Motoring in Bracknell driving school has a good reputation for providing up to date practical driving lessons for anyone wishing to learn to drive in Bracknell, Berkshire. Practice your theory test and brush up on your highway code, we can prepare you for the driving test and beyond, safe driving for life.
There are many different types of road systems
in the Bracknell area where you can learn to drive. The learner driver in Bracknell, Berkshire can take driving lessons on a great variety of junctions such as, narrow town roads, busy high streets, complex junctions which are usually attached to high speed dual carriageways.
It does take long before you venture out into the countryside where you will find national speed limit roads and sharp bends. All of these varying road systems enables the leaner driver to gain a huge amount of experience.
Roundabouts in Bracknell
On approaching a roundabout take notice and act on all the information available to you, including traffic signs, traffic lights and lane markings which direct you into the correct lane. You should have Driving Lessons in Bracknell