Driving Lessons in Bracknell
Learn to Drive In Bracknell, Berkshire
Learn to drive with a driving school that really cares about its customers, we only employ local fully qualified driving instructors who are trained in the latest Coaching and Client Centered skills need for today's demanding roads.  All our local instructors will provide the very best of driving school courses to help you gain on road experience, as well as learn about the highway code and always put safety first. Driving Lessons in Bracknell
Cost of Driving Lessons in Bracknell
We can provide a great driving lesson package for you, just click on the below link to find out about our driving lesson prices and discounts packages.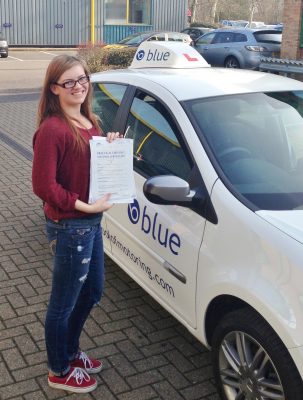 Blue School of Motoring driving instructors in Bracknell area have a high success rate, with most of our students who come to us the learn come from recommendations.
Driving Lessons in Bracknell
Blue School of Motoring in Bracknell driving school has a good reputation for providing up to date practical driving lessons for anyone wishing to learn to drive in Bracknell, Berkshire. Practice your theory test and brush up on your highway code, we can prepare you for the driving test and beyond, safe driving for life. Driving Lessons in Bracknell
Driving Instructors in Bracknell
There are many different types of road systems in the Bracknell area where you can learn to drive. The learner driver in Bracknell, Berkshire can take driving lessons on a great variety of junctions such as, narrow town roads, busy high streets, complex junctions which are usually attached to high speed dual carriageways. Your Driving Instructor will help design a driving course that best suits you.
It does take long before you venture out into the countryside where you will find national speed limit roads and sharp bends. All of these varying road systems enables the leaner driver to gain a huge amount of experience.
Roundabout Driving Lessons in Bracknell
On approaching a roundabout take notice and act on all the information available to you, including traffic signs, traffic lights and lane markings which direct you into the correct lane. You should have Driving Lessons in Bracknell.
Where to Find us in Bracknell.
Lowbury Harmanswater Bracknell RG12 9HY
Driving Lessons in Bracknell, Berkshire
Learning to drive comes easy to some and not to others. However, everyone can benefit from taking professional driving lessons in Bracknell, Berkshire. Professional instruction can build the skills necessary to pass the theoretical and practical driving tests along with helping you to become the best driver that you can be.
What are Professional Driving Courses?
This is a series of courses designed to prepare you fully for the theoretical test which is your knowledge of traffic laws and signs. Plus, the practical test which demonstrates your skills at driving a vehicle so you can get your driver's license. The better prepared a person is to pass both exams, the easier it will be for you to accomplish both goals.
The courses themselves are designed around each student, customized in a sense to provide maximum impact in a reasonable time frame. While all drivers learn at their own pace, the information and practical experience that comes with the courses provides the best means of passing the tests and becoming a safe driver.
First Driving Lesson in Bracknell
Everything starts when you meet your instructor. They will pick you up and provide you with the syllabus that describes what the course entails, when you have completed enough to apply for your driving theory test and how to study for it, recommending the right books or apps to further your knowledge, and offer a progress book that will help you with the practical driving test.
All of this will be a part of your first of several driving lessons in Bracknell, Berkshire. The number of driving lessons will depend in large part on your progression through the course. However, most students are able to grasp the knowledge fairly quickly and build up enough experience behind the wheel so the entire program is relatively short and to the point.
Why Take Professional Driving Lessons?
With so many teens and adults able to grasp the basics of driving along with understanding traffic laws and safety methods, it may seem like professional driving lessons are more for those who struggle with driving. However, there are several tangible benefits that come with taking the recommended courses.