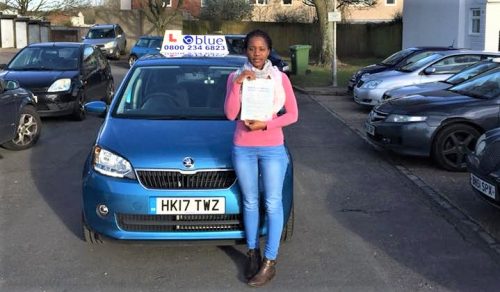 Farnborough driving test pass for Keturah Kawanguzi
Posted in: Driving Lesson Farnborough, Peter Devonshire Driving Test Passes, Recommendations from Students.
Well done to Keturah Kawanguzi from Bracknell who passed her driving test in Farnborough today with only a few driving faults.
Jules, the examiner, was brilliant helping overcoming any nerves and stressing the test is something to be excited about.
Congratulations from Peter, your instructor and all at Blue School Motoring.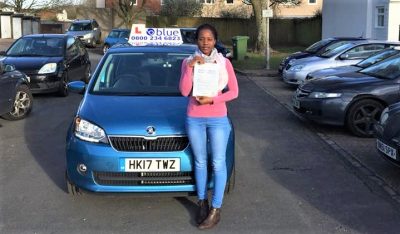 Get all the information you need to get your full driving licence and also about your first driving lesson
Start learning to drive today in Farnborough, Hampshire.
Your driving instructor will collect you for your first driving lesson from school, home or work, and will then help you prepare for the theory and driving tests.
Pass your driving test first time with Blue School of Motoring.
Before you start your driving classes, here are few tips to drive:
Never forget to check your mirrors before moving off to a driving test; failure to recognize blind spots can lead to hazards at later stage.
Do not try to look at the gear when you change it; your eyes must be always on the road.
Maintain a definite distance between other vehicles and obstructions on the way.
Do not stop at every junction during your driving test unless it is necessary. For example, if you stop at a roundabout when it's obvious that you're clear to go, you may pick up marks for hesitancy. However, where the road sign tells you to "Stop", you must do so.
---
Tags: driving instructor farnborough, driving lessons farnborough
---