Driving Lessons in Slough
Driving Lessons in Slough
Driving Lessons in Slough Get your first driving lesson in Slough with one of our local driving instructors who is trained to provide the best course to meet your goals.  All of our driving instructors are government CRB checked by the police, so they are very highly qualified as well.
Blue School of Motoring instructors in the Slough area have a high success rate, with most of our students for the driving school coming from recommendations, like the one below: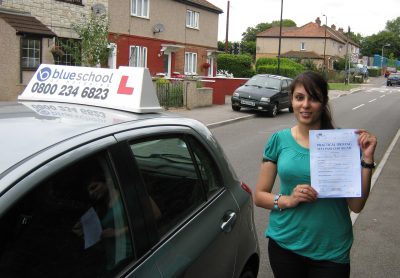 "I passed my driving test with Blue School of Motoring only a few weeks ago, and I passed on my first attempt with only a few minor faults. I would tell anybody who wants to drive and learn with a good school, to use them." Raheela – Slough
Learn to drive and pass the driving test in the Slough, Berkshire area, and pass with a brilliant driving school that offers you the best course in the area.
Slough driving school, learn to drive and have lessons in Slough. Practice your theory test and learn the road signs, pass the theory test and driving test in Slough. We have lots of qualified driving instructors in the Slough, Berkshire area that can provide driving lessons in dual controlled cars. Driving Lessons in Slough.
Cost of Driving Lessons in Slough
Get some driving lesson prices and find out how to buy driving lessons online. Click Here
Give us a call today and get an idea of how our courses work, they are for beginners who have no experience, or perhaps for someone who has had a few hours before with mum and dad, or if you have failed a driving test in the past, and want to try another driving school.
There are some very challenging driving conditions in the Slough area, due to the high volumes of traffic, as this is a very busy area with lots of local businesses and schools all contributing to the peak hour traffic flow.
Learn to Drive in Slough
For anyone looking to get their driving permit, getting the right lessons from professional instructors offers plenty of advantages. You can learn to drive in Slough and receive all the lessons necessary to ensure that you can pass the driving test so you can obtain your driver's license.
Why Take Professional Driving Instruction?
While many drivers learn from family and friends, a professional instructor has been fully trained to provide you with the guidance needed to help you succeed in your driving efforts. It's not just the amount of knowledge that they have accumulated, but also the ability to convey it to new drivers so they better understand what to do behind the wheel.
Driving Lessons in Slough From traffic signs to reducing the chances of having an accident, professional instruction offers a safer, guided aspect to learning what to do when operating your vehicle under different traffic conditions. From driving on the highway to the street traffic in downtown areas, you will gain the knowledge and experience needed to be more confident and know what to do in different situations.
What to Expect
For your first lesson with an experienced driving instructor, you should put any fears and anxiety aside as you get to learn the vehicle, the rules of the road, and how to drive in various situations. The first lesson will also include how the vehicle functions so that you gain confidence by knowing more of what it can and cannot do.
Confidence is built on knowledge provided by the instructor and experience behind the wheel. By getting the best in instruction, you have a strong platform to build your base of experience that leads to fewer accidents and more enjoyment behind the wheel. Your first lesson will provide a few anxious moments, but they quickly pass as the instructor guides you along the way.
Where to Find us in Slough