Driving Lessons in Frimley Green
Driving Lessons in the Frimley Green area of Surrey
Your Frimley Green driving instructor will collect you for your first driving lesson, and will provide all of the relevant information concerning your training programme. Driving Lessons Frimley Green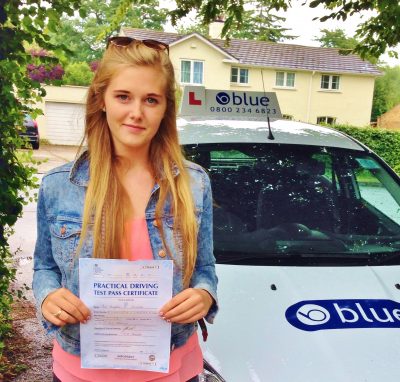 This will cover all aspects of the teaching syllabus, including information about how and when to apply for your theory test. The Blue School of Motoring instructor will also help you the pupil in how to study effectively for the theory test, this will cover choosing the appropriate Apps for your future study. You can get loads of advice on what to buy from your instructor.
Driving Tests in the Frimley Green area are carried out at Farnborough DTC.
The driving test is straightforward. It is designed to see if you can drive safely, know the Highway Code and can demonstrate this through your driving. Test routes are designed to be as uniform as possible and include a range of typical road and traffic conditions. You will be given directions in good time and asked to carry out set exercises. Driving Lessons Frimley Green The driving test lasts approximately 38 / 40 minutes.
You will be asked to carry out a reversing manoeuvres, they may be one of the following:
Reverse 2 car lengths on the right side of the road
A drive into a bay and reverse out
A Reverse Parallel Park, Next to a Vehicle
A Reverse Park into a Parking Bay
You may also be asked to carry out an Emergency Stop, plus you will be asked to drive independently for about 20 minutes. The test routes include areas such as Aldershot, Frimley Green, Fleet, Cove. Driving Lessons Frimley Green
Franchise Partner Positions in Frimley Green
There are plenty of franchise positions out there but we offer a Very competitive package
Why work for a low hourly rate, when you can make much more than that, at Blue.
We are looking for qualified instructors (Approved Driving Instructor) to join Blue School of Motoring ASAP.
If you are teaching in either Manual or Automatic cars we are looking for both types of driving instructors in the
Frimley Green area
Special Intro Offer First Few Months Franchise FREE
All the students you need
Earn a good rate of pay, not cheap lessons rates
Friendly and Helpful team members at Blue
Work the Hours you want
Full CPD courses for Free
For Qualified Instructors, ADI's only
Packages Start from as little as £45
Free marketing in your local Frimley Green area, to attract the best customers for you. Free Roof Box, Business Cards, Training Material and online diary
No, long term fixed contracts
No set up fees.
Full support on building your business.
Agreed Geographical area's to work, that are close to home
No hidden costs
A mutually beneficial agreement, that is negotiated between both parties
Great business support and training in class or on road