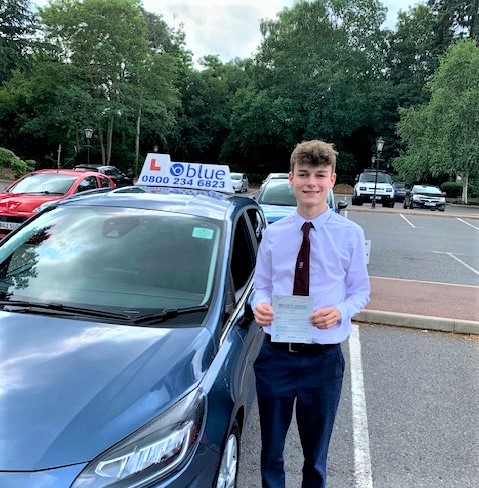 Freddie Wickers of Windsor Passed Driving Test First TIME
Posted in: Andy Shrimpton Driving Test Passes, Driving Lesson Windsor, Learner Drivers Passing Test, News.
A very big well done to Freddie Wickers of Windsor. Freddie passed his practical test in Chertsey yesterday on his first attempt and with just 3 driving faults. The test included a parallel park and following Satnav for the independent driving element.
All the very best from Andy Shrimpton, your driving instructor and all the team at Blue School of Motoring.
Freddie Wickers of Windsor Passed Driving Test First TIME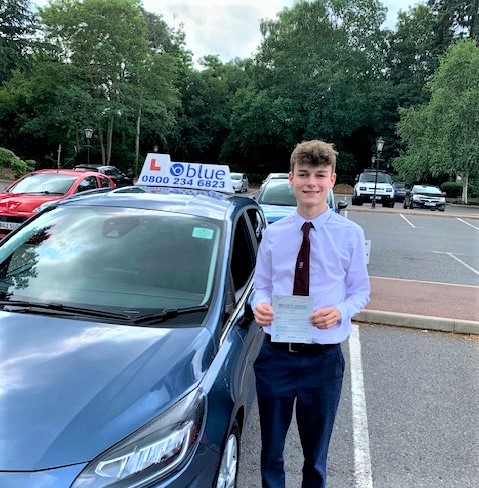 Driving Lessons in Windsor, Berkshire
Whether you are a student who has reached driving age or an adult who never got the chance to drive before, there are driving lessons in Windsor, Berkshire that you can take which will provide beginning and more advanced skills.
Driving Courses
You can choose from a pre-packaged series of driving courses that best fits your needs. For those just starting out, a short series of courses designed to introduce the driving experience and develop your skills on the road.
There are courses for teens that help them to understand the basics of driving while adults can get refresher courses to improve their overall skills. The lesson packages are flexible which means that they are designed to provide the proper amount of instruction depending on the needs of the driver.
The lessons provided are designed primarily to help individuals get their driver's licenses. This means that the modules available include assistance with the following;
Driving & Vehicles Standards Agency (DVSA)
Driving Theory
Hazard Perception Test
Practical Test
As the lessons are shaped to your set of skills, they can be modified for maximum effect so you can gain the right knowledge for what you need to achieve.
Your First Driving Lesson
The instructor will pick you up from your home for the first driving lesson. At this point, all relevant information that applies to your needs will be offered by the instructor. This includes the following; Freddie Wickers of Windsor Passed Driving Test First TIME
Syllabus
When to Apply for Your Driving Theory Test
How to Study for the Test
What Books or Apps will be Needed
Progress Book
The Progress Book will help you prepare for the theory and practical driving tests. All the information is put together for you to pass both by learning from the material and instruction. The courses needed are taught on a tight time frame, long enough to fully understand all the material and gather practical experience behind the wheel. Yet, short enough so you can complete all the necessary courses quickly and on your schedule.
Benefits
There are several benefits that come with taking professional driving lessons in Windsor, Berkshire that will help you drive better and safer on the road. This means that you will gain knowledge in how to understand traffic signals, drive in different weather conditions, and what to do during common situations while driving so that you can react appropriately. Freddie Wickers of Windsor Passed Driving Test First TIME
Arguably the main benefit is that it combines the theoretical with the practical so that you learn to drive the proper way. The goal is not just to pass the tests, but to help you become the best driver that you can be. Learning to drive while following the law and keeping out of dangerous situations helps to minimize the chances of accidents and injury.
Keep in mind that no amount of driving lessons will prevent all accidents from occurring, but they will help reduce the chances to a minimum. If you are looking to get driving lessons in Windsor, Berkshire, then let us be your service.
---
Tags: driving lesson windsor, Freddie Wickers of Windsor Passed Driving Test First TIME
---