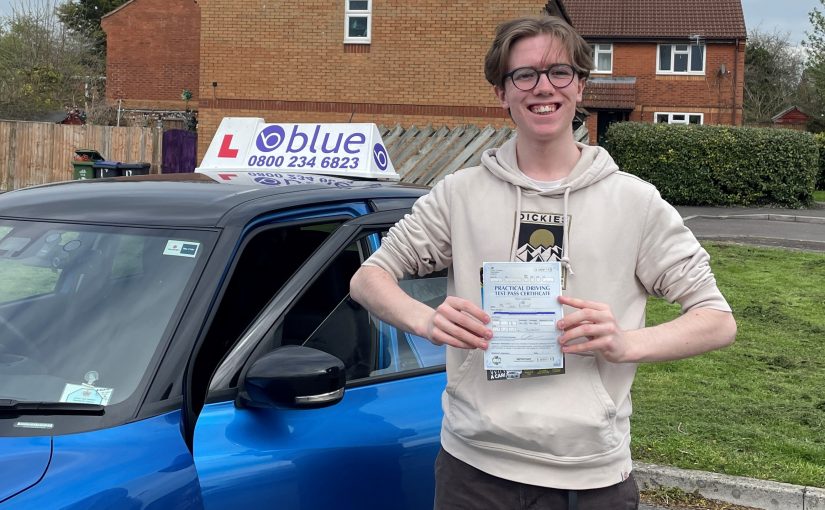 Jack Bishop of Frome Passed Driving Test in Trowbridge
Posted in: Damien Burke Driving Test Passes, Driving Lesson Frome, Driving Lesson Trowbridge, News, Passed Driving Test First Time.
A massive congratulations to Jack Bishop of Frome, Somerset who passed his driving test in Trowbridge, Wiltshire FIRST TIME. Jack had a really complicated route including various complex multi laned roundabouts, busy town centre driving along with some high speed crossroads, and to top it all off he had to deal with massive hill at West Ashton.
Jack had to complete the driving test with a bay reverse park at the Driving Test Centre at the end of his driving test, which he did perfectly, Jack passed with only a few minor driving faults.
All the very best Jack with your exams and going off the University. All the best from Damien Burke your driving instructor and all the team at Blue School of Motoring.
Jack Bishop of Frome Passed Driving Test in Trowbridge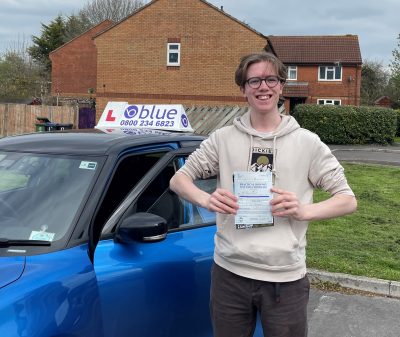 Get your first driving lesson in Trowbridge
with one of our local driving instructors who are trained in the latest coaching and client cantered learning skills. We have a very high success rate for the driving test in Trowbridge and we can help you to become a very safe driver.
Blue School of Motoring instructors in the Trowbridge area have a high success rate, with most of our students for the driving school coming from recommendations. Jack Bishop of Frome Passed Driving Test in Trowbridge
We also cover the following local area's
Frome, Beckington, Radstock, Warminster, Westbury
We can offer a flexible training programme to suit your needs, this includes pick up and drop off to your home or work. Each module is covered as per the DVSA(Driving & Vehicles Standards Agency) requirements. This includes help with the Theory, Hazard Perception Test, and on through to your taking of the Practical test.
Driving Lessons Near Trowbridge
Presently, driving is a necessity for a lot of people, especially around Trowbridge in some of the smaller villages and areas without a great deal of public transport. Places like Frome, Trowbridge, Beckington, Westbury and Nunney, where some of the roads have demanding and busy conditions. One advantage of taking driving lessons near Trowbridge is that you can use these to improve your driving skills. There's no need for you to depend on others as you can drive whenever and wherever you want. You don't also need to rely on public transport most of the time.
We have instructors in lots of local areas, we currently have instructors based in Trowbridge, Westbury and Frome who can offer their driving lessons and expertise in plenty of local areas. So how can you make sure that you are getting the best driving lessons near Trowbridge? Here are some of the things that you ought to look for. Jack Bishop of Frome Passed Driving Test in Trowbridge
---
Tags: driving lessons frome, Driving Lessons in Trowbridge, Jack Bishop of Frome Passed Driving Test in Trowbridge
---