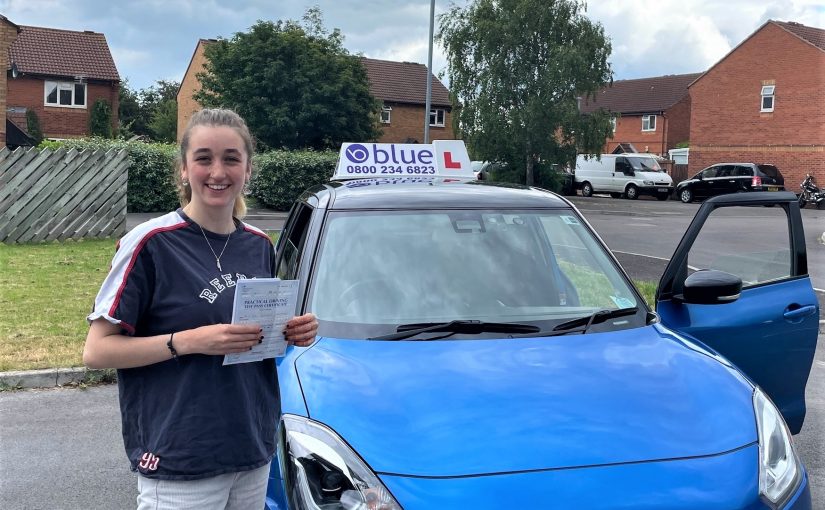 Orli Cranston of Chapmanslade Passed Driving Test First Time in Trowbridge
Posted in: Damien Burke Driving Test Passes, Driving Lesson Trowbridge, Happy Customers, News.
Fantastic First Time pass for Orli Cranston of Chapmanslade who passed her driving Test First Time in Trowbridge, Wiltshire, with only a few minor driving faults FIRST TIME.
It was a brilliant drive through some hectic traffic in Trowbridge lots of complex junctions to deal with and loads of pedestrian traffic as well.  Orli had a reverse bay park at the very end of her driving test. Orli said the examiner Craig was very nice and calm.
All the best from Damien Burke your driving instructors at Blue School of Motoring. Drive safely and good luck with your paramedic studies.
Orli Cranston of Chapmanslade Passed Driving Test First Time in Trowbridge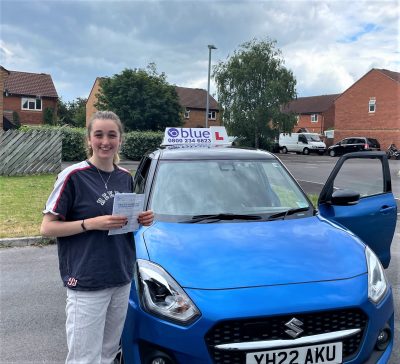 Get your first driving lesson in Trowbridge
with one of our local driving instructors who are trained in the latest coaching and client cantered learning skills. We have a very high success rate for the driving test in Trowbridge and we can help you to become a very safe driver.
Blue School of Motoring instructors in the Trowbridge area have a high success rate, with most of our students for the driving school coming from recommendations.
We also cover the following local area's
Frome, Beckington, Radstock, Warminster, Westbury
We can offer a flexible training programme to suit your needs, this includes pick up and drop off to your home or work. Each module is covered as per the DVSA(Driving & Vehicles Standards Agency) requirements. This includes help with the Theory, Hazard Perception Test, and on through to your taking of the Practical test. Orli Cranston of Chapmanslade Passed Driving Test First Time in Trowbridge
Cost of Driving Lessons in Trowbridge
Another factor that you should consider and carefully look into is the cost. However, it shouldn't be the main deciding factor for you. Avoid using the cost as the sole basis for hiring a driving instructor. Make sure that you'll be getting real value for your money. Fortunately, you can find high-level and professional driving instructors in Trowbridge who can provide you with the lessons you need at reasonable prices.
Blue Driving School is one of them. The good thing about our lessons here at Blue Driving School is that they have more value over the standard ones. This means that you will really learn a lot from us.
---
Tags: Driving Lessons in Trowbridge, Orli Cranston of Chapmanslade Passed Driving Test First Time in Trowbridge
---