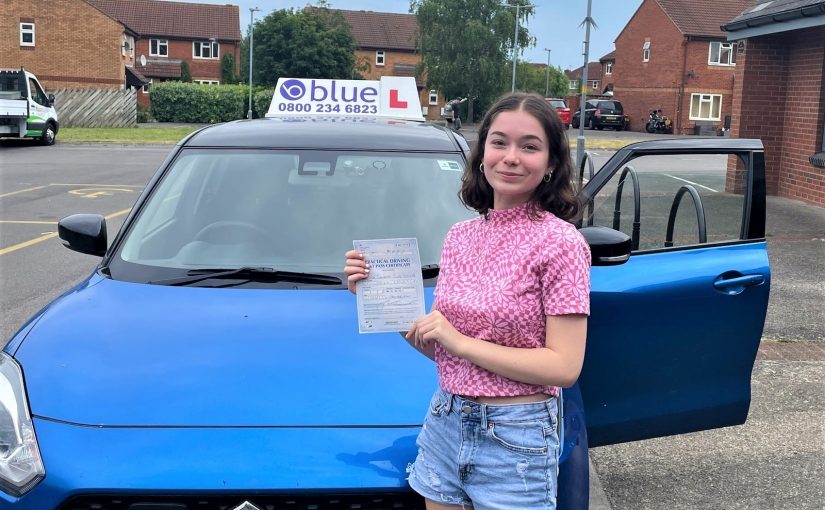 Bliss Keller of Frome Passed her Driving Test in Trowbridge FIRST Time
Posted in: Damien Burke Driving Test Passes, Driving Lesson Frome, News, Passed Driving Test First Time.
Brilliant First Time pass for Bliss Keller from Frome in Somerset who passed her Driving Test with only a few minor driving faults in Trowbridge, Wiltshire FIRST TIME. It was a very busy and hot summers day and there was lots lunch time of day about in Trowbridge lots of complex junctions to deal with and loads of pedestrian traffic as well. Bliss had a reverse on the right in a congested road.
All the best from Damien Burke your driving instructors at Blue School of Motoring. Drive safely and good luck with your University studies.
Bliss Keller of Frome Passed her Driving Test in Trowbridge FIRST Time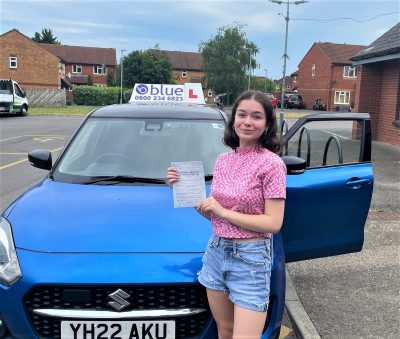 Driving Lessons Near Frome
Presently, driving is a necessity for a lot of people, especially around Frome in some of the smaller villages and areas without a great deal of public transport. Places like Trowbridge, Radstock, Beckington, Westbury and Nunney, where some of the roads have demanding and busy conditions.
One advantage of taking driving lessons near Frome is that you can use these to improve your driving skills. There's no need for you to depend on others as you can drive whenever and wherever you want. You don't also need to rely on public transport most of the time. Bliss Keller of Frome Passed her Driving Test in Trowbridge FIRST Time
We have instructors in lots of local areas, we currently have instructors based in Trowbridge, Radstock, Beckington, Westbury and Nunney who can offer their driving lessons and expertise in plenty of local areas. So how can you make sure that you are getting the best driving lessons near Frome? Here are some of the things that you ought to look for.
Theory Test In Frome
Aside from the actual driving, it's also advisable to become more familiar about the rules of the road around Frome, so you can study extensively for the theory test. You can read the Highway Code to start but you can also seek the aid of professional driving lessons to ensure that you absorb everything that you need to learn. The lessons shouldn't only be the practical applications of what you've learned on the car and road. It should also involve theories, as these are also essential in becoming a responsible and knowledgeable driver in Somerset.
Cost of Driving Lessons in Frome
Another factor that you should consider and carefully look into is the cost. However, it shouldn't be the main deciding factor for you. Avoid using the cost as the sole basis for hiring a driving instructor. Make sure that you'll be getting real value for your money. Fortunately, you can find high-level and professional driving instructors in Frome who can provide you with the lessons you need at reasonable prices. Blue Driving School is one of them.
The good thing about our lessons here at Blue Driving School is that they have more value over the standard ones. This means that you will really learn a lot from us. Bliss Keller of Frome Passed her Driving Test in Trowbridge FIRST Time
Wide Range of Options
You should be able to check lessons that you can purchase in blocks. This will give you more value for the money you spent. Fortunately, there is no need for you to exert too much effort in finding the ones that perfectly suit you as you have several options. Just make sure that you will be getting those blocks of lessons that you really need.
Driving Instructors with Years of Experience
Professional driving lessons are those offered by instructors who have long years of experience in the field. If you're dealing with an experienced and expert instructor, then you can expect to easily and quickly learn from their lessons.
---
Tags: Bliss Keller of Frome Passed her Driving Test in Trowbridge FIRST Time, driving lessons frome, Driving Lessons in Trowbridge
---