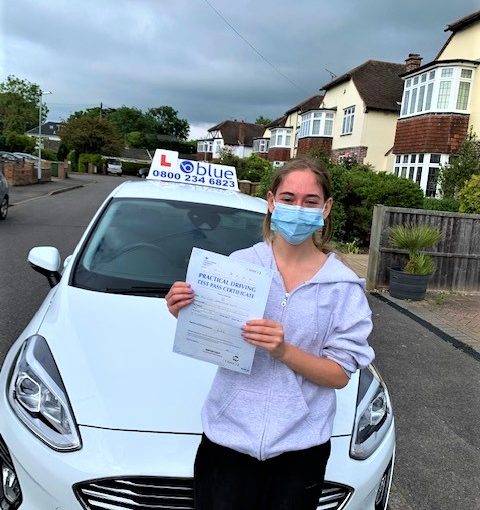 Driving Test pass for Kiera Knott of Windsor Berkshire
Posted in: Andy Shrimpton Driving Test Passes, Driving Lesson Windsor, News.
Congratulations to Kiera Knott of Windsor. Kiera passed her driving test on her first attempt in Slough this morning with just 3 driving faults. The test included a right hand reverse and Satnav for the independent driving. The examiner did comment on what a lovely drive it was!
All the best from Andy Shrimpton your driving instructor and all the team at Blue Driving School.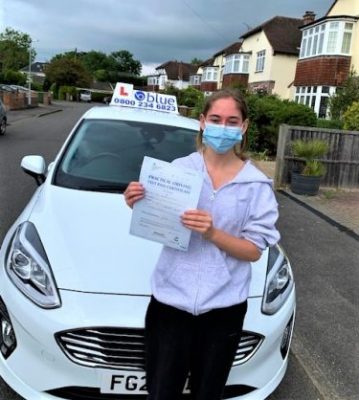 Driving Test pass for Kiera Knott of Windsor Berkshire
Driving Lessons in the Windsor area of Berkshire
Your Berkshire driving instructor will collect you for your first driving lesson, and will provide all of the relevant information concerning your training programme. This will cover all aspects of the teaching syllabus, including information about how and when to apply for your theory test. The Blue School of Motoring instructor will also help you the pupil in how to study effectively for the theory test, this will cover choosing the appropriate Apps for your future study. You can get loads of advice on what to buy from your instructor.
Driving Tests in the Berkshire area are carried out at Windsor DTC.
The driving test is straightforward. It is designed to see if you can drive safely, know the Highway Code and can demonstrate this through your driving. Test routes are designed to be as uniform as possible and include a range of typical road and traffic conditions. You will be given directions in good time and asked to carry out set exercises. The driving test lasts approximately 38 / 40 minutes.
You will be asked to carry out a reversing manoeuvres, they may be one of the following:
A reverse on the right in the Road
A Reverse Parallel Park, Next to a Vehicle
A Reverse Park into a Parking Bay
A Drive into a bay and the Reverse out
You may also be asked to carry out an Emergency Stop, plus you will be asked to drive independently for about 20 minutes. The test routes include areas such as Windsor, Berkshire, Wexham, Datchet, Cippenham.
---
Tags: driving lesson windsor, Driving Test pass for Kiera Knott of Windsor Berkshire
---