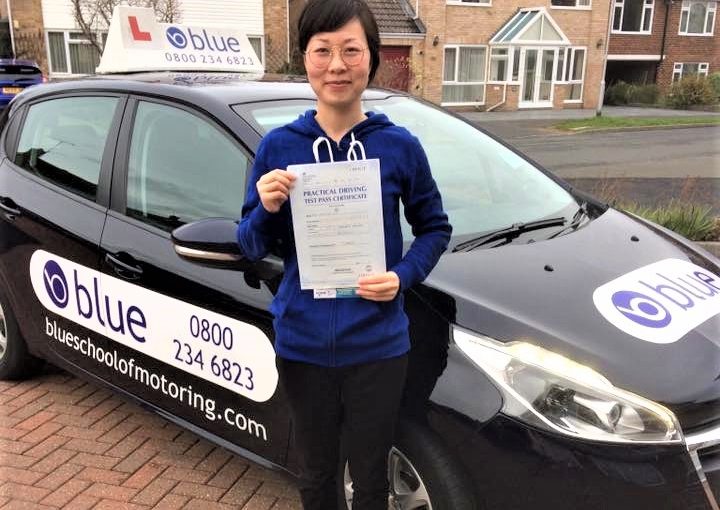 Rita Chenxiao Guo from Sandhurst passed her driving test in Farnborough
Posted in: Driving Lesson Camberley, Recommendations from Students, Terry McClelland Driving Test Passes.
Well done to Rita Chenxiao Guo from Sandhurst on passing her driving test today at Farnborough with only three minor driving faults. Her test included an independent drive to Aldershot and a bay park reverse manoeuvre at the end in a rather congested car park but she held her nerve and completed it perfectly. Congratulations Rita on a great result from your instructor Terry and all at Blue School.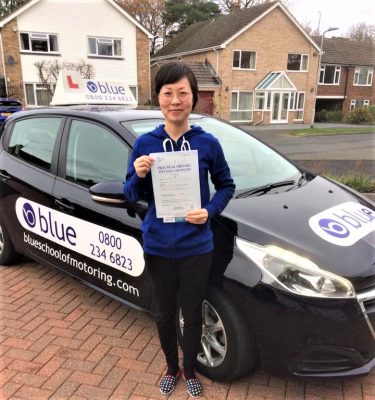 Driving Lessons and Driving Instructors in Sandhurst. Learn to Drive in Sandhurst
Blue School of Motoring has been teaching students to learn to drive in Sandhurst for several years. Pass your driving test in the Sandhurst area.
There are some great discounts for driving lessons. Free Phone 0800 234 6823 and save money on driving lessons in Sandhurst.
We also teach driving lessons in these areas
Farnham, Bracknell, Farnborough, Camberley, Blackwater, Bagshot, Crowthorne, Fleet, Yateley, Sandhurst, Ash Vale , Farnham, Hartley Witney, Hook, Frimley, Normandy, Ash
Driving Lessons
Your Blue School of Motoring instructor will collect you for your first driving lesson, and will provide all of the relevant information concerning your training programme. This will cover all aspects of the teaching syllabus, including information about how and when to apply for your theory test. The Blue School of Motoring instructor will also help you the pupil in how to study effectively for the theory test, this will cover choosing the appropriate books or App's for your future study. You can purchase all of the training material from your instructor
Driving Tests
The driving test is straightforward. It is designed to see if you can drive safely, know the Highway Code and can demonstrate this through your driving. Test routes are designed to be as uniform as possible and include a range of typical road and traffic conditions. You will be given directions in good time and asked to carry out set exercises. The driving test lasts approximately 38 / 40 minutes.
You will be asked to carry out two reversing manoeuvres, they may be one of the following:
– A Reverse Parallel Park, Next to a Vehicle
– A Reverse Park into a Parking Bay
– Driving into a bay and reversing out
– Parking on the right and reversing back 2 car lengths
You may also be asked to carry out an Emergency Stop
Get great special offers on driving lessons in the Sandhurst area, by booking now. Learning to drive in the Sandhurst area is a great experience with a Blue School of Motoring Ltd instructor. The local area roads can be a demanding experience for the novice driver, especially with so much traffic even on weekends, in the Sandhurst area. With so many people arriving to shop in any high street centre, there are always plenty of hazards to contend with, especially the busy shopping area's.
Learn to drive in Sandhurst with the experts.
High Discounts on driving lessons with Blue School of Motoring Ltd can offer training courses for prospective trainees who live in the Sandhurst area. Learn to teach people to drive in the Sandhurst area, with Blue School of Motoring Ltd. Learn to reverse around a corner safely or do an emergency stop, we can help you pass your driving test.
Driving instructors in Sandhurst, who are looking for a great driving school to work for, please call us and find out about opportunities in your area. Become a Blue School of Motoring driving instructor in the Sandhurst are and work locally from home.
Your Sandhurst based Blue School of Motoring Driving Instructor will advise you where to do your theory test, and also your practical driving test. So for driving lessons in Sandhurst use Blue.
Please be advised it's always best to talk to your Sandhurst Driving Instructor before booking your theory or driving test.
All our Sandhurst driving instructors are patient and calm, with a friendly and professional approach. The Blue goal is to provide a structured and professional training programme to all our students, who learn to drive in Sandhurst, which will cover all aspects of the driving syllabus, this will enable you to develop as a safer driver for the rest of your life.
Blue School of Motoring is expanding all the time, so if you don't see your area listed here please contact us as we may be able to help you, or call us for a driving lesson in Sandhurst at the driving school on 0800 234 6823.
If you'd like to book lessons or pay for lessons with Blue School of Motoring you can do this online via this website by filling in the form on our book lessons page.
All our Sandhurst Driving Instructors follow our driving instructor code of conduct. Please click on the link to read it.
---
Tags: driving instructor sandhurst, learner driver sandhurst
---