Bracknell Driving Instructor
Kelly Mccabe has been a driving instructor for some time now and her pupils highly recommend her. Kelly is a Driving Instructor in Bracknell, Berkshire.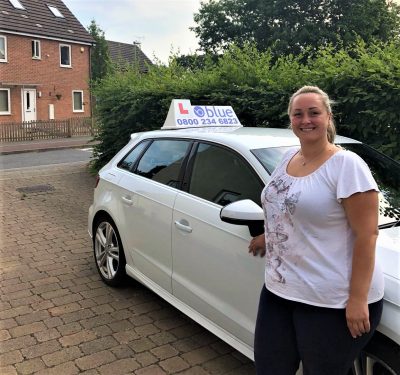 Phone: 07888700380
Hometown: Bracknell, Berkshire
Car: Automatic
I am a driving instructor, recently I have completed my CCL and Coaching training driver development training. My previous employment was in the services industry for a number of years dealing with a wide variety of clients.
Kelly has a very high success rate
Kelly trained to provide, Learner driver training, Motorway Courses, Refresher Training.
Kelly also teaches driving lessons in these areas: Bracknell, Binfield, Crown Wood, Priestwood, Great Hollands, Hanworth, Easthampstead, Warfield, Wokingham, Ascot, Sunningdale areas.
Vulcan, Bracknell Berkshire RG12 9GN
Post Code Areas Covered
RG12 RG42 RG45 RG40 SL5.
Your first lesson – What to expect?
Your Blue School of Motoring instructor will pick you up from your home, school or place of work. Your driving instructor will then explain to you how your driving course is going to work. What to prepare for how to study for the theory test, there will be a lot going on in your first lesson, so a two hour session is usually the norm.
Car control can be a lot to take in at first – it's all about physical motor reactions, which sometimes require a new range of skills, response times and hand-to-eye co-ordination skills. Even a simple procedure like moving off involves dealing with the clutch, gears, handbrake, indicators and checking the mirrors – it's like you're in multitasking overdrive. But don't worry, your instructor will go over these area's time and time again until you gradually begin to do more on your own.
Don't be afraid to ask questions, that's what your instructor expects, and will encourage you to do, if you don't ask you will never learn. But don't worry if this makes you uncomfortable – hopefully you'll relax as you become familiar with the situation.
Kelly McCabe's Recent Driving Test Passes
Bracknell Driving Test Pass for Kieran Harwood

🎉🎉CONGRATULATIONS🎉🎉 Kieran Harwood on passing your driving test today in Farnborough with only 1 driving fault. I wish you all the best from Kelly McCabe your driving instructor. Bracknell Driving …