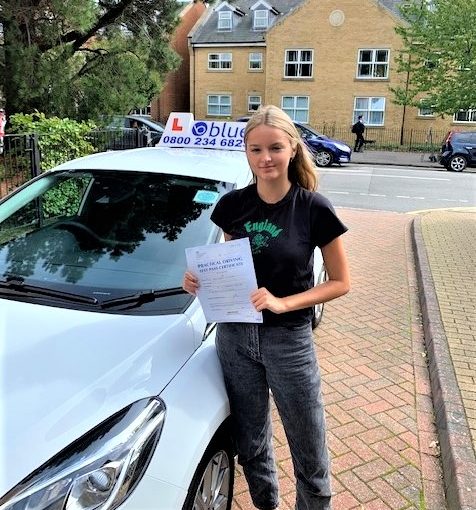 Sasha Weller of Windsor passed her driving test in Slough
Posted in: Andy Shrimpton Driving Test Passes, Driving Lesson Slough.
Another great result; this time for Sasha Weller of Windsor.
Sasha passed her driving test in Slough this afternoon with just two driving faults and on her first attempt.
The test included a reverse bay park and Satnav independent driving.
All the best from Andy Shrimpton your driving instructor and everybody at Blue, drive safely.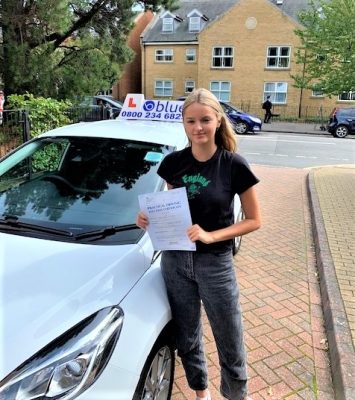 Back to School or University in the Slough area of Berkshire.
Driving lesson courses are now available with some great offers open to new students. If you are starting 6th from college or getting started back at University, there are some money saving offers now available to you.
If you are a student we can offer some great discounts on driving lessons in Slough, we can even help you get through
he theory test, with discounted theory study packs. You can have your driving lesson from school, college or University in our local area's.
Your first driving lesson includes
Your Blue Driving Instructor will collect you for your first driving lesson, and will provide all of the relevant information
concerning your training programme. This will cover all aspects of the teaching syllabus, including information about how and when to apply for your driving theory test.
Your Driving Instructor will also help
you the pupil in how to study effectively for the theory test, this will cover choosing the appropriate books or
Apps for your future study.
Your Driving Instructor in Berkshire will also you a Driver Record of Progress Book to keep track of your training programme, this is designed to help you get ready for the Driving Theory Test and then the Practical Driving Test.
---
Tags: Sasha Weller of Windsor passed her driving test in Slough
---