Waiting To Get A Driving Licence? Make Learning Easy With Small SUV
Posted in: Driving Courses, Driving Tips.
Waiting To Get A Driving Licence? Make Learning Easy With Small SUV
If you're learning to drive–or teaching someone to drive-you know how nerve-wracking it is to get behind the wheel or watch an inexperienced new driver get started.   in an SUV can reassure everyone involved because of their reputation for safety, but some new drivers have trouble manipulating a larger car at first.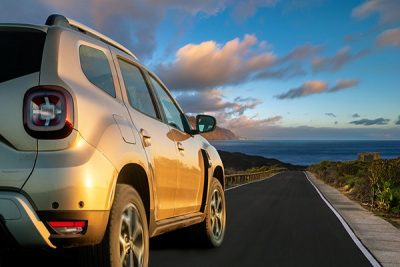 Not every SUV is huge and intimidating. There are lots of smaller, more parking-friendly, more fuel-efficient SUVs on the market. Today's small crossover SUVs are sensibly sized, but still offer the major advantages of driving performance, comfort, and safety you'd expect from a larger vehicle.
High safety standards
Small SUVs are built to similar performance standards as their larger cousins, which means they offer superior handling. A huge advantage in avoiding hazards, and terrific when combined with advanced safety features. For example, the Honda HR-V receives a 5-star overall safety performance rating from NHTSA.
Style and substance, together
The best small SUV for you is one you're happy to see every day and happy to be seen in. If you're a new driver, sometimes that extra style factor is what you need to boost your confidence! Today's looks are the perfect cross between practical and beautiful, with contemporary streamlining and elegant details borrowed from sports car designs.
Small package-outstanding performance!
Choosing a smaller car doesn't mean missing out. Small SUVs are built for driving in any situation– off-road, highway, or city driving, with no loss of performance. Consumer Reports recently evaluated the small crossover SUV category and found several outstanding models that all met or exceeded their stringent testing requirements.
A higher profile for more confident driving
In addition to their tested reliability and a higher standard of safety, SUVs have a higher profile, so it's easier to see the road. Being able to keep an eye on your surroundings when you're driving is a vital skill to master– set yourself up for success and pick an SUV with clear sightlines all around.
Plus, a taller vehicle means it's easier for other drivers to see you, which means it's easier to share the road. Yet this high profile doesn't mean you're taking up more space– a small SUV has the same footprint as a regular compact car, making it much easier and more convenient to learn how to pass the parking component of the test.
Enough room for anything or anyone you need to transport
Most people these days are concerned about sustainability and efficiency. While it's tempting to think that a compact two-door car would be the best option, think again! True efficiency is about more than just fuel. If your car is small and you have to make multiple trips to carry everyone and everything you need to bring, you've ultimately saved nothing.
A small crossover SUV, like the Honda HR-V, offers a roomy interior capable of carrying your friends, family, furniture, groceries, pets, kids in car seats–whatever you need, all in one trip!
Wallet-friendly options
Small SUVs don't skimp on performance, safety, style, or features– but they are light on your wallet. Compact SUVs come in at a significantly lower price when compared to traditional SUVs, making them a great choice for a first car. The combination of a roomy interior, high safety ratings, and a moderate price also make it a great choice for a growing family or company car. And the savings don't stop there– compared to other cars, a small SUV balances performance and fuel efficiency, so you save on fuel every day. It all adds up!
---
Tags: Waiting To Get A Driving Licence
---