Windsor Driving Test pass for Alfie Ingram
Posted in: Andy Shrimpton Driving Test Passes, Driving Lesson Windsor, Happy Customers.
 Windsor Driving Test pass for Alfie Ingram
Well done to Alfie Ingram of Windsor, Berkshire. Alfie passed his test in Slough this afternoon with just a few driving faults. The test included a right hand reverse and Sat-nav independent driving. All the best from Andy Shrimpton your driving instructor and all the team at Blue Driving School. Windsor Driving Test pass for Alfie Ingram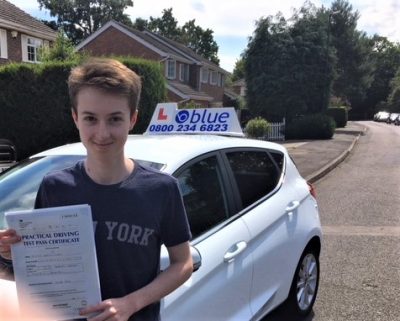 Blue School of Motoring Driving Tips
Clutch Control
Blue School of Motoring driving instructors can help you master clutch control. Clutch control will be referred to often during your lessons. It means controlling the speed of the car using small movements of the clutch pedal. It is usually used during very slow manoeuvres when raising the clutch all the way would make the car go too fast. Windsor Driving Test pass for Alfie Ingram
When you have had a few driving lessons, it is a good idea to practice clutch control as it helps you become more confident with the car. A Driving Instructor would recommend practicing clutch control at some point in the 'move away and stop' lesson. Windsor Driving Test pass for Alfie Ingram
To practice clutch control
Find a quiet, straight, flat road.
Press the clutch down and select 1st gear.
Press the gas pedal slightly and find the clutch biting point as in the move away.
Your Driving Instructor will ask you to do your observations.
Release the handbrake.
When the car starts to move, keep the gas steady and push the clutch pedal down very, very slightly to stop the car gathering too much speed.
If the car slows down too much, raise the pedal slightly – but not all the way up.
Try to keep the car extremely slow by using these very small clutch movements.
Practice as often as you can on straight, flat roads so that, when you have to do more complicated manoeuvres, you are comfortable with using clutch control to keep the speed right.
Once you have mastered a flat surface move onto hill starts, your Blue School of Motoring Driving Instructor, will advise you how to do this. Windsor Driving Test pass for Alfie Ingram
Windsor Driving School
St Johns Drive
WIndsor
,
Berkshire
SL4 3RA
Phone:

01373 472225
URL: https://www.blueschoolofmotoring.com/
| | |
| --- | --- |
| Monday | 9:00 AM - 5:00 PM |
| Tuesday | 9:00 AM - 5:00 PM |
| Wednesday | 9:00 AM - 5:00 PM |
| Thursday | 9:00 AM - 5:00 PM |
| Friday | 9:00 AM - 5:00 PM |
| Saturday | Closed |
| Sunday | Closed |
---
Tags: driving lessons windsor, Windsor Driving Test pass for Alfie Ingram
---