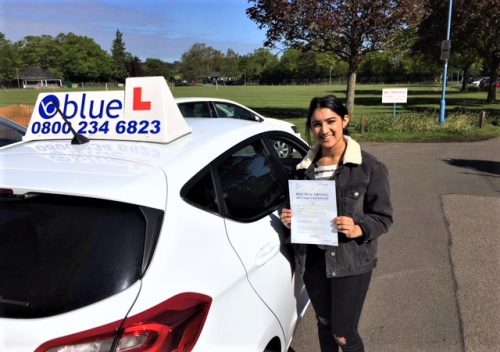 Windsor Driving Test Pass for Shara Kathari
Posted in: Andy Shrimpton Driving Test Passes, Driving Lesson Windsor, Learner Drivers Passing Test.
A fantastic start to the day for Shara Kathari of Windsor. Shara passed her test this morning in Chertsey and on her first attempt. The test included a bay park and SatNav independent driving and Shara only picked up a couple of driving faults. All the best from Andy Shrimpton your driving instructor and all the team at Blue Driving School. Windsor Driving Test Pass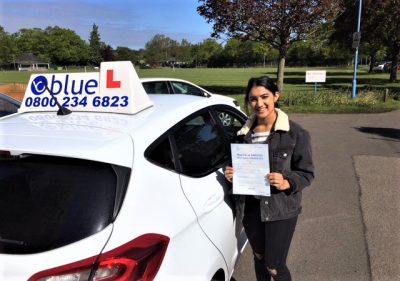 Eco Driving Tips
Today's fuel prices are a good indicator of our need to reduce fuel consumption, and of course the ever present problem of global warming is a great driving factor that we all can't ignore. I'm sure were all sick and tired of being told to clean up our act at home by using less energy, not wasting food, recycling more, it can be tiresome, driving is no different. For any body who is required to drive to work or has to drive for work, then a few simple changes to the way you drive can save you money and if we all do it, then it can greatly reduce the harmful effect our vehicles have on the environment.   If you own a fleet of vehicles then the savings could be great.  Windsor Driving Test Pass
Taking a short journey in your car can use more fuel, so the obvious answer is not to use the car, if only life could be that simple. If you have to use your car there are a range of simple driving techniques you can use to reduce your fuel bill.
Anticipation and planning is what we do all day long, even when we are not driving. Here are a few tips on driving more economically. Don't leave your braking so late, this increases wear and tear on your car and accelerating away at junctions will also increase fuel consumption.
Look well ahead use the far horizon as your starting point, then drop your view to the middle distance, keep a good gap from the vehicle in front remember the two second rule, then check your lane positioning, just over your bonnet. By constantly changing your view you can react in plenty of time to vehicles in front braking too late, so that you can have time to check your mirrors and then apply your brakes progressively.
Windsor Driving Test Pass
---
Tags: Windsor Driving Test Pass
---