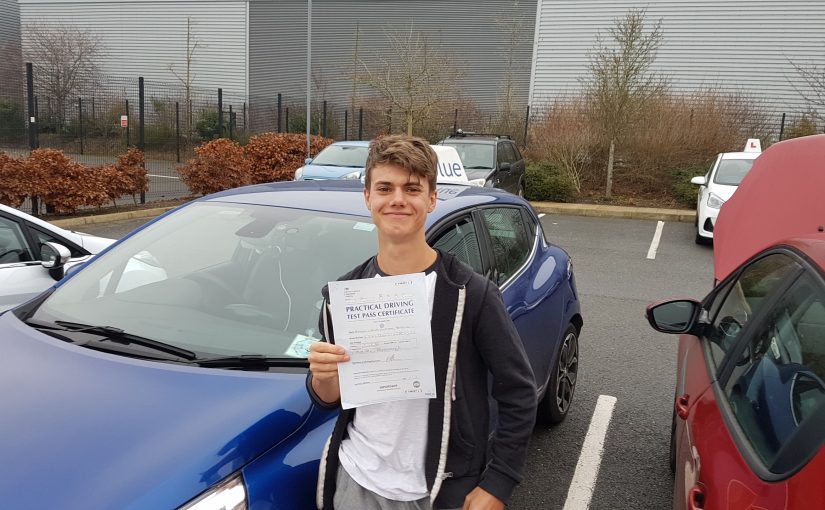 Ben Harrison-Badham of Bagshot, Surrey his driving test FIRST time in Farnborough
Posted in: Damien Burke Driving Test Passes, Happy Customers, Passed Driving Test First Time.
A very good result for Ben Harrison-Badham of Bagshot, Surrey who passed his driving test FIRST time with only a few minor faults in Farnborough, Ben got drive into a bay in a public car park, he did this by doing a very nice handbrake turn, which he did perfectly the examiner was greatly impressed. Then he had to drive independently using the sat nav from cove all the way though Farnborough gate onto to the A331 dual carriageway negotiating some very busy complex junctions. His wheel spins were amazing and the donut in the test centre car park, was smoking. All the best from Damien Burke you're driving instructor, and all the team at Blue.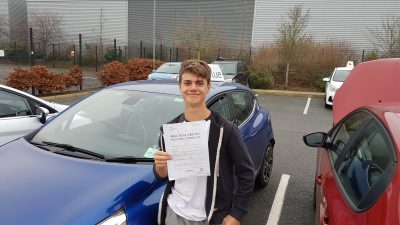 Learn to Drive in Bagshot, Surrey
We have quite a few driving instructors in and around the Bagshot and Camberley area that will design a driving course that suits you and will prepare you for all of the driving modules that will get you ready for the theory and eventually the driving test. All of our driving instructors are fully qualified DVSADI's this means that they are Driving & Vehicle Standards Approved Driving Instructors, and that they have been police CRB checked.
These tips are provided in conjunction with Blue School of Motoring – a Bagshot driving school that gets results for learner drivers.
We strongly recommend that all candidates prepare thoroughly for the test. To help prepare we recommend The Highway Code, relevant books from our Essential Skills series and Know Your Traffic Signs. The official theory test books and Apps contain the multiple choice questions. The Apps show screens similar to those used in the multiple-choice part of the test and information about hazard perception.
Being a safe driver with good hazard perception skills means being able to use speed correctly, keeping the correct distance between yourself and other road users, scanning the road effectively, anticipating and planning for potential hazards.
All these skills can be taught effectively. You should prepare with a 'Blue' professional instructor as part of a structured programme of on-road tuition, the recommended driving syllabus.
Good luck with your driver training programme, and don't forget if you need any help, just ask.
---
Tags: driving instructor bagshot, driving school bagshot
---