Warfield driving test Pass for Sam Bradford
Posted in: Driving Lesson Ascot, Driving Lesson Bracknell, Driving Lesson Wokingham, Driving School Areas, Happy Customers, Learner Drivers Passing Test, Passed Driving Test First Time, Recommendations from Students, Terry McClelland Driving Test Passes.
Congratulations on a first time pass to Sam Bradford from Warfield who passed his driving test today at Chertsey. Although nervous at the start, Sam drove really confidently and his test included a reverse around a difficult corner and and independent drive from Addlestone to Chertsey. Well done Sam from your instructor Terry and all at Blue School.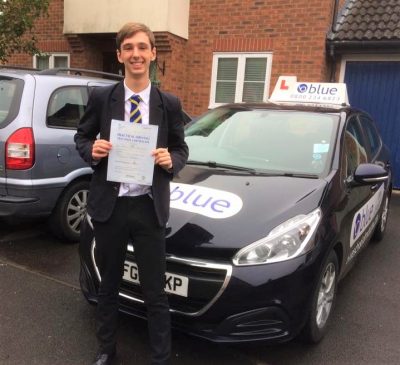 Driving Lessons in Warfield with Blue enables you the new or experienced driver to reach your goal, whether it be to start from scratch and progress all the way to passing your driving test, or for someone more experienced to refresh what they already know.
If you're looking for a driving school for driving lessons in the Warfield area, then we can help you out. Learning to drive in Warfield can be great fun especially with one of our highly trained and calm driving instructors.
The driving instructors in the Warfield area are fully trained to provide the most professional training course using client centred learning (CCL) and the latest coaching skills to help you to prepare to drive on today's busy roads.
There are plenty of course options when choosing Blue to learn to drive with, we have loads of packages available, we start classes for driving lessons in Warfield from early in the morning to late in the evening, and we are also open on weekends, so we can provide a suitable driving course that suits you.
If you're a student going to one of the many sixth form colleges in the Warfield area, we can even collect you from school and then finish the lesson back there or at home, if you're working then we can start the lesson from work. Once you have had your first driving lesson with your driving instructor then you can tailor a course that fits in with your school or work timetable.
---
Tags: becoming a driving instructor warfield, driving instructor warfield, driving lessons warfield, driving test warfield, hazard perception, l plate driver warfield, learn to drive in warfield, learn to drive warfield, learner driver warfield, new driver warfield, theory test warfield
---