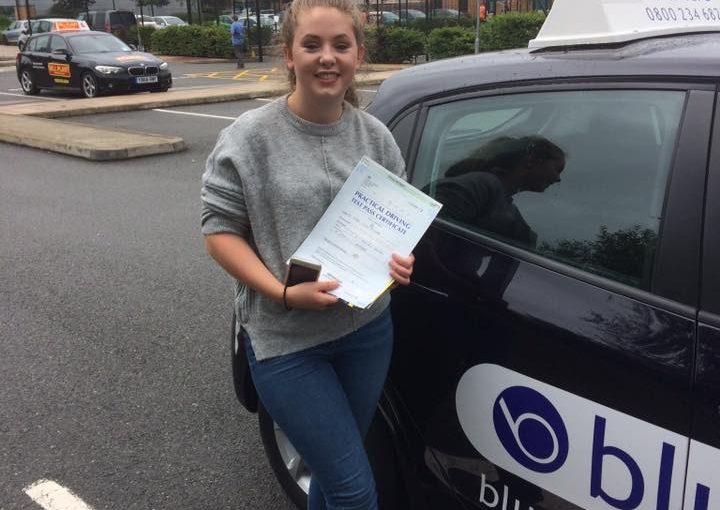 Congratulations to Bethaney Pritchard passed her Driving test today at Farnborough
Posted in: Driving Lesson Aldershot, Driving Lesson Blackwater, Driving Lesson Camberley, Driving Lesson Farnborough, Happy Customers, Learner Drivers Passing Test, Passed Driving Test First Time, Recommendations from Students.
Huge congratulations to Bethaney Pritchard from Warfield who passed her test today at Farnborough at her first attempt with only a couple of minor faults. Well done Bethaney from your instructor Terry and all at Blue School, a great start to the summer.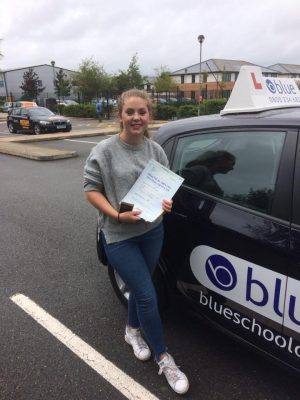 Driving Lessons in the Farnborough area
Your Farnborough driving instructor will collect you for your first driving lesson, and will provide all of the relevant information concerning your training programme. This will cover all aspects of the teaching syllabus, including information about how and when to apply for your theory test. The Blue School of Motoring instructor will also help you the pupil in how to study effectively for the theory test, this will cover choosing the appropriate Apps for your future study. You can get loads of advice on what to buy from your instructor.
Book Driving Lessons 01373 4742225
Driving Tests in Farnborough. The driving test is straightforward. It is designed to see if you can drive safely, know the Highway Code and can demonstrate this through your driving. Test routes are designed to be as uniform as possible and include a range of typical road and traffic conditions. You will be given directions in good time and asked to carry out set exercises. The driving test lasts approximately 38 / 40 minutes
You will be asked to carry out a reversing manoeuvres, they may be one of the following:
A Turn in the Road
A Reverse Round the Corner into a Side Road
A Reverse Parallel Park, Next to a Vehicle
A Reverse Park into a Parking Bay
You may also be asked to carry out an Emergency Stop, plus you will be asked to drive independently for about 10 minutes. The test routes include areas such as Aldershot, Mytchett, Fleet, Cove.
---
Tags: becoming a driving instructor farnborough, driving instructor farnborough, driving lessons farnborough, driving school farnborough, driving test farnborough, female driving instructor, l plate driver farnborough, lady driving school, learn to drive farnborough, learn to drive in farnborough, learner driver farnborough, new driver farnborough, practise theory test farnborough
---