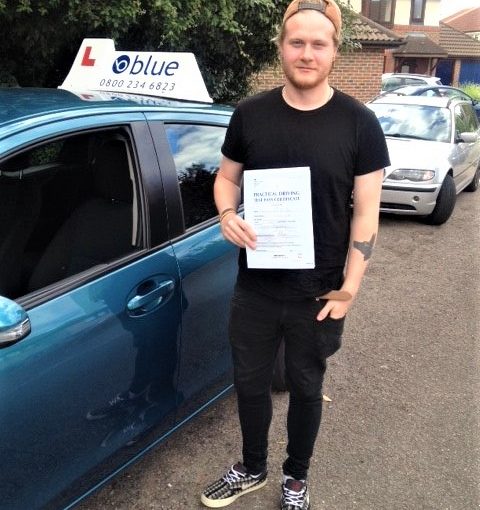 Driving test Pass for Chris Watts of Warfield in Bracknell
Posted in: Driving Lesson Ascot, Driving Lesson Bracknell, Driving Test Info, Driving Test Tips, Driving Tips, Happy Customers, Joe Gomez Driving Test Passes, Learner Drivers Passing Test, Passed Driving Test First Time, Recommendations from Students.
Congratulations to Chris Watts of Warfield, Bracknell. Chris passed his test in Chertsey this morning. Chris did really well on the test route he had to negotiate, lots of narrow roads full of parked cars and then high speed roads as well . All the best from Joe Gomez your driving instructor and all the team at Blue.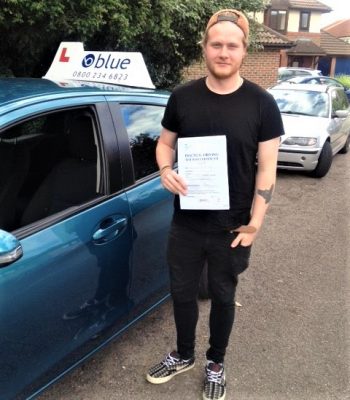 Driving Lesson Tips from Blue Driving School
Find the Right Driving Instructor
There is no doubt that learning to drive can be one of the more difficult tasks in life but if you have focus, dedication and the right driving instructor it can be handled easily. Usually people have so many questions in their mind about how to start, from where to get the documentation completed or what kind of legal formalities are required. Actually when you start driving as a learner, at that time you must have a learner's license with you and in order to get this license document you need to apply for it using the official government website at Gov.uk. Once you get the legal authorisation, your driving licence from the DVLA to learn driving then it is safe to proceed and book your driving lessons.
Your very first driving lesson should be always taken with an expert instructor as he/she can give your proper guidance as well as support. Learners need to understand the functioning of every part of the vehicle properly and try to gain the confidence in order to take the vehicle on the road. It is recommended by the government that you select a qualified instructor from your local area who can deliver you best driving instructions in an area you are familiar with along with reasonable charges.
Finding a good driving instructor
Finding a good driving instructor is a big achievement for any learner because half of the trouble is solved when you get a good guide. A good instructor can help you to gain the confidence you need quickly and will assist you to perfect your training in every important fact related to driving. It is good to hire an instructor from a recognized and or recommended driving school so that you are likely to avail a well experienced and qualified guide who knows about all training tools and will stick around for the complete driving course that includes, theory and eventually the driving test.
There are so many flexible training options where instructors are ready to provide training as per your timing schedules that can be part time or full time, in case you have a full time job or are in education. A good driving instructor can build a course structure that will be beneficial for you as per your driving abilities and your availability.
Develop maximum skills
The courses include theory as well as practical knowledge and they are combined in such a manner that the learner can develop maximum skills within the best time frame for the learner driver.
The specialised courses developed by our driving school instructors are really useful for learning about how to drive perfectly on today's tough roads. It is good to contact the most knowledgeable driving school instructor for your course training as their experience will show results in your training and progression. As well as standard courses about theory and practical, we also offer lessons and courses on motorway driving, night driving, driving in bad weather and also driver instructor courses and employment.
Established driving schools
Those who are new to the world of driving are recommended to join courses at established driving schools because it is the best place to get expert guidance about how to drive in a variety of scenarios, and the experienced instructors at our driving school can help you to be a driving expert.
Getting your learner driver classes
Before joining a driving school and getting your learner classes, you will have to make some effort to get a learner's license from the DVLA. This legal documentation is gives you authority to take your vehicle on the road along with a qualified driving instructor. It is illegal to drive on UK roads without a license, even if you are a learner and do not own your own car, so first of all must have obtained a driving licence. More details on this are provided here.
Our driving school instructors can provide learners as per their work schedule and timing needs. If you are a part time learner then they can manage your learning duration between your daily routine or while travelling from home to work and vice versa; it will be the most suitable option for you as you need not to disturb your daily schedule to learn driving.
Before you start your driving classes, here are few tips to drive:
Never forget to check your mirrors before moving off to a driving test; failure to recognize blind spots can lead to hazards at later stage.
Do not try to look at the gear when you change it; your eyes must be always on the road.
Maintain a definite distance between other vehicles and obstructions on the way.
Use indicators properly and at right time so that others can get a path by knowing your
Do not stop at every junction during your driving test unless it is necessary. For example, if you stop at a roundabout when it's obvious that you're clear to go, you may pick up marks for hesitancy. However, where the road sign tells you to "Stop", you must do so.
Don't get too close to stationary vehicles or obstructions. Always keep a look out for pedestrians stepping out onto the road.
If you have to overtake cyclists during your driving test, give them plenty of clearance (about the width of an average-sized car). Don't follow them too closely. When reversing, keep looking round for road users. Never continue reversing as another road user is passing.
Use your mirrors before you change speed (up or down), change gear, stop or move off and whenever you change direction in your driving test.
If you think you're heading for the kerb when reversing round a corner, stay calm. Make all round observations first, then pull forward and correct yourself. This is a much better approach than carrying on and hitting the kerb!
If another vehicle approaches while you're performing a turn in the road during your driving test, don't panic. Make eye contact with the other driver first – if it's clear that he is waiting for you, continue calmly with your manoeuvre, but check all round first.
Otherwise wait until he's driven past you before proceeding. In addition, while you should do your best to complete a turn in the road in three movements, you will not automatically fail your driving test if you take more than three. The important point is to look out for other road users and complete it at a reasonable pace.
Don't panic if you make a mistake during your driving test. The examiner will not automatically fail you. Remain calm and move on. The national pass rate for the practical test is 42%.
It is recommended that prior to taking your test you should have had 40 hours in-car tuition with a qualified driving instructor and then another 25-30 hours practice with friends or family.
---
Tags: car test, cheap driving lessons, driver training, driving instructor, driving instructor test, driving instructor training, driving lessons, driving school, driving school test, driving test, driving test lessons, dsa test, fleet training, learner driver, learner driver test, pass driving test, pass plus, theory test
---