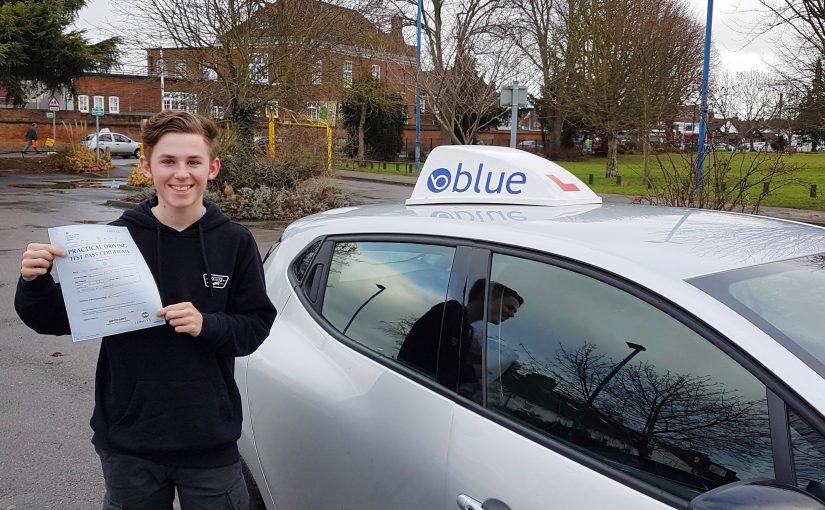 A really perfect result, ZERO FAULTS for Tom Baldwin of Winkfield,
Posted in: Damien Burke Driving Test Passes, Driving Lesson Ascot, Driving Lesson Bracknell, Driving Lesson Windlesham, Happy Customers, Learner Drivers Passing Test, Recommendations from Students.
A really perfect result, for Tom Baldwin of Winkfield, Berkshire, who passed his driving test with ZERO FAULTS few minor faults in Slough, Berkshire. The DVSA examiner Tony looked so relaxed he must have dozed off during such a chilled out drive. Tom got reverse paralell park as his manoeuvre, It was really busy traffic and there were loads of pedestrians, traffic lights police cars, ambulances that made it very hectic . All the very best from Damien Burke your driving instructor, and all the team at Blue. Good with your taxi run..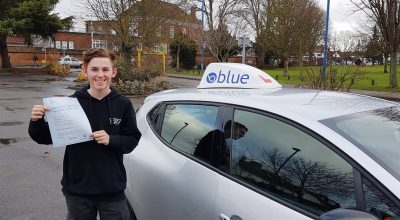 Back to School or University
Driving lesson courses are now available with some great offers open to new students. If you are starting 6th from college or getting started back at University, there are some money saving offers now available to you.
If you are a student we can offer some great discounts on driving lessons, we can even help you get through the theory test, with discounted theory study packs. You can have your driving lesson from school, college or University in our local area's.
Your first driving lesson includes
Your Blue Driving Instructor will collect you for your first driving lesson, and will provide all of the relevant information concerning your training programme. This will cover all aspects of the teaching syllabus, including information about how and when to apply for your driving theory test.
Your Driving Instructor will also help you the pupil in how to study effectively for the theory test, this will cover choosing the appropriate books or CD's for your future study. Your Instructor will also you a Driver Record of Progress Book to keep track of your training programme, this is designed to help you get ready for the Driving Theory Test and then the Practical Driving Test.
Top tips for your Driving Test
With more and more people learning to drive, Blue School of Motoring presents a guide of Top Tips to help you with your practical driving test.
The biggest driving test tip is not to book a driving test unless you feel ready! If you don't feel confident, check with your driving instructor whether you are ready for your driving test.
It's natural to feel slightly nervous on the day of your driving test. Don't let this worry you too much. Stay calm and drive as you have been driving with your driving instructor, don't drive any differently just because an examiner is sitting next to you.
Always check your mirrors and indicate before stopping or moving off during your driving test. Look carefully over your shoulder to check your blind spots. Failure to do the latter will most certainly get you a minor fault mark, and could be potentially hazardous to other road users.
Don't look down at the gear stick when you change gear during your driving test. You should always keep your eyes on the road, constantly scanning the far, middle and near distance.
Always indicate correctly and in good time, this helps other road to know your intentions.
Do not stop at every junction during your driving test unless it is necessary. For example, if you stop at a roundabout when it's obvious that you're clear to go, you may pick up marks for hesitancy. However, where the road sign tells you to "Stop", you must do so.
Don't get too close to stationary vehicles or obstructions. Always keep a look out for pedestrians stepping out onto the road.
If you have to overtake cyclists during your driving test, give them plenty of clearance (about the width of an average-sized car). Don't follow them too closely.
When reversing, keep looking round for road users. Never continue reversing as another road user is passing.
Use your mirrors before you change speed (up or down), change gear, stop or move off and whenever you change direction in your driving test.
If you think you're heading for the kerb when reversing round a corner, stay calm. Make all round observations first , then pull forward and correct yourself. This is a much better approach than carrying
on and hitting the kerb!
---
Tags: advanced driving, car test, cheap driving lessons, driver training, driving instructor, driving instructor test, driving instructor training, driving lessons, driving school, driving school test, driving test, driving test lessons, dsa test, fleet training, learner driver, learner driver test, off road, pass driving test, pass plus, taxi test, theory test, under 17 driving
---