Automatic Driving Lessons Camberley
Learn to drive in an automatic car in Camberley
Why not try lessons in an automatic car?
Automatic vehicles have no clutch pedal; and all you have to do with the gear selector is select "Drive" before moving away and gears are selected automatically as you drive along.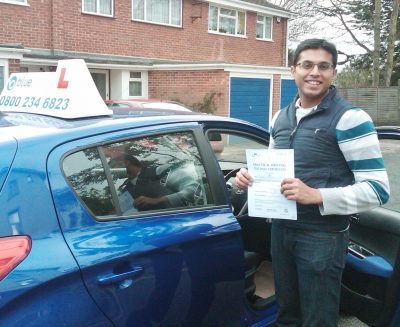 With the problem of choosing and selecting gears out of the way you will be able to channel your concentration on planning ahead, steering and anticipating what other users might do, generally making driving much easier.
Learning to drive in an automatic car can be so much easier than in a manual car, with most pupils reaching test standard in less time, learning to drive can be a lot less expensive.
Blue School of Motoring has some great automatic driving lesson courses in Camberley we have a good reputation for providing up to date practical lessons for anyone wishing to learn to drive in Camberley.
The automatic car driving lessons and courses are very comprehensive and cover all of the driving modules that you need to learn in order to become a safe driver on today's busy roads. Learn to drive an automatic car with the Blue School of Motoring.
There are some very differing driving conditions in and around the Camberley area, like the busy high street, high speed dual carriageways, lots of narrow roads where you have to deal with parked cars and lorries, plus pedestrians.
Learn to Drive in an Automatic
Blue School of Motoring can offer you the opportunity to learn to drive in an Automatic car
• Problems learning to drive?
• Difficult to change gear & steer at the same time?
• Missing out on gaps in traffic due to stalling?
• Unsure of which gear to select for hazards & when?
• Coordination problems for more mature drivers?
• Need a refresher course?
• Disability making driving a problem?