Driving lessons in Farnham
If you are looking for driving lessons in Farnham, then we are sure to have the perfect highly experienced and qualified driving instructor for you! Here at Blue we have a large number of local instructors in the Farnham area who know the local area, and are qualified in all the necessary DVSA requirements which will help you pass your theory and driving tests.
Our Blue School of Motoring instructors in the Farnham area have a high success rate, with many students saying they would recommend us to their friends and family.
We don't just offer driving lessons for people who are looking to pass their theory or practical driving tests. Blue have instructors who also teach courses to help further your confidence once you have passed your test as well. With our Pass Plus courses and our Motorway/Dual carriageway courses, we can help improve your confidence on areas that even the most experienced of drivers get nervous about.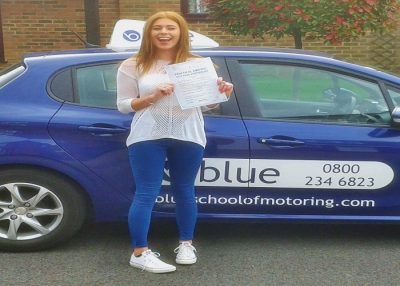 If you are looking to book your driving lessons in Farnham then you can click here to view our driving instructors and to see who is fully trained to help guide you through an additional course of your choice. Alternatively you can use that page to either email us or simply call us on 01276 453722.